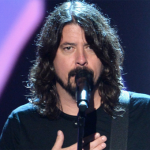 [lead]Dave Grohl performs surprise solo show in Nashville to 100 people[/lead]
Foo Fighters frontman Dave Grohl surprised an audience of just 100 people when he played a secret acoustic gig in Nashville, Tennessee on Wednesday night (May 7).
Grohl appeared at The Bluebird cafe, introducing himself by saying: "My name's Dave Grohl. I'm a drummer." There is no explanation as to why Grohl was in Nashville, though local news reports state he was filmed by a camera crew throughout his performance.
The Tennessean reports Grohl paid tribute to the southern city he was playing in, and said, "The heart and soul of this city is in the music and the musicians. It is an honor to be here," as he played a set including 'Everlong', 'Learn To Fly', 'Times Like These' and 'My Hero.'
Grohl said he might need to run outside and scream because he'd never played such a quiet show, but instead stayed after his performance and chatted with fans.
The Bluebird gig was the second of two surprise shows Grohl has played this week and follows a career spanning Foo Fighters gig in Washington DC on Monday (May 5).
Last month (April 30), Foo Fighters shared pictures of the recording sessions for their new album. According to producer Butch Vig, the LP is "almost halfway done" and will see the band experimenting with some challenging recording techniques to keep everyone focused.
The band revealed in January that sessions for their new album were "fucking on" by posting a picture of a row of master tapes labelled 'Foo Fighters LP 8' to their official Instagram. Speaking to BBC Radio 1's Zane Lowe, Grohl said: "I know what it sounds like and I honestly think the entire concept is really going to take people by surprise and it sounds nuts."